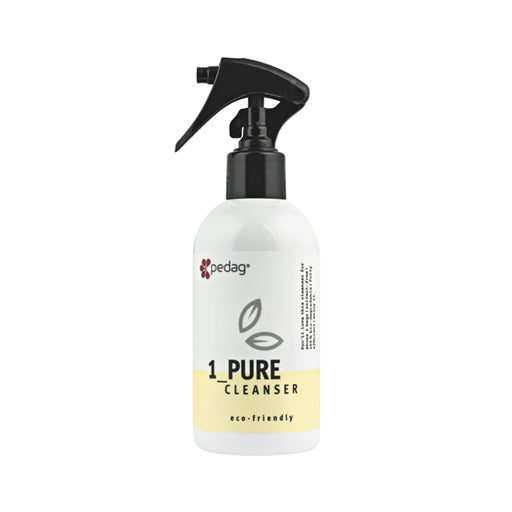 pedag PURE CLEANSER, 220ml
Extremely effective in-depth cleaning for all materials. 100% biodegradable. Solvent-free.
pedag PURE CLEANSER is an environmentally friendly cleaner from the pedag eco-friendly line. 100% biodegradable, 100% effective. It thoroughly dissolves stains and dirt from all materials and prepares shoes, bags & leather accessories as part of an ongoing care routine.
Application instructions:
Remove loose dirt with a brush or a cloth.
Moisten a clean brush with lukewarm water.
Shake well before use. Apply a few sprays of PURE CLEANSER to the brush or the surface to be cleaned.
Scrub the surface in order to create rich foam. Always clean the entire surface of the leather to prevent differences in color after drying.
You can treat persistent stains directly with PURE CLEANSER. Simply spray on stains, let absorb for 1-3 minutes, and buff.
Wipe leather dry with a clean cloth. Repeat steps above if necessary.
Allow the leather to dry at room temperature for 24 hours. After drying: brush out suede with an appropriate brush, in order to restore the look, feel and patina of the cleaned material. Buff smooth leather with a cloth for brilliant shine.
Suitable for use on all leather, suede, nubuck and material combinations. Not recommended for use on metallic finishes.
---
---
More from this collection