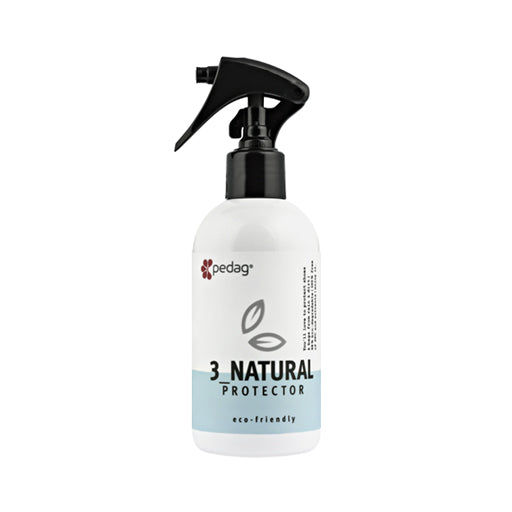 pedag NATURAL PROTECTOR, 220ml
Eco-friendly waterproofer sustainably and effectively protects all materials. 100 % free of PFC and solvents. 98 % biodegradable.
pedag NATURAL PROTECTOR is an environmentally friendly waterproofer from the pedag eco-friendly line. 98% biodegradable, 100% protective. Its 3D molecular structure effectively protects all types of leather, suede, nubuck and textiles leaving the material supple and breathable. Thanks to its environmentally friendly active ingredients, the water-based and odorless impregnator can be used indoors without issue.
Application instructions:
Ensure that the surface is clean. Note: It is possible to use NATURAL PROTECTOR on wet surfaces.
Shake bottle well before use.
Spray NATURAL PROTECTOR evenly over the entire surface from a distance of 15 cm until the surface is damp.
Gently rub NATURAL PROTECTOR into the material with a clean cloth or brush in order to achieve maximum penetration.
When treating multicolored surfaces: start with the lightest color. Use another cloth for each color to prevent color bleed.
For maximum effect, wait for 10 minutes and repeat step the above steps.
Wait another 10 minutes and remove any excess not absorbed with an absorbent cloth in order to ensure even drying. Also remove residue from non-absorbent materials, such as metal and rubber.
Allow the shoes to dry at room temperature for 24 hours.
Suitable for use on all leather, suede, nubuck and material combinations. Not recommended for use on metallic finishes.
---
---
More from this collection